October 22, 2015
12:30pm to 2:00pm
Jack Poole Hall, 2nd floor, Robert H. Lee Alumni Centre, 6163 University Blvd., Vancouver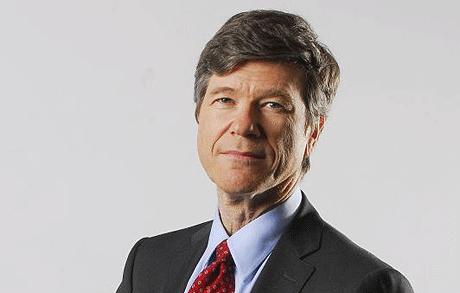 Jeffrey D. Sachs is a world-renowned professor of economics, leader in sustainable development, senior UN advisor, bestselling author, and syndicated columnist whose monthly newspaper columns appear in more than 100 countries. He has twice been named among Time Magazine's 100 most influential world leaders. He was called by the New York Times, "probably the most important economist in the world," and by Time Magazine "the world's best known economist." A recent survey by The Economist Magazine ranked Professor Sachs as among the world's three most influential living economists of the past decade. He is co-recipient of the 2015 Blue Planet Prize, the leading global prize for the environment.
Professor Sachs serves as the Director of The Earth Institute, Quetelet Professor of Sustainable Development, and Professor of Health Policy and Management at Columbia University. He is Special Advisor to United Nations Secretary-General Ban Ki-moon on the Millennium Development Goals, having held the same position under former UN Secretary-General Kofi Annan. He is Director of the UN Sustainable Development Solutions Network. He is co-founder and Chief Strategist of Millennium Promise Alliance, and is director of the Millennium Villages Project. Sachs is also one of the Secretary-General's MDG Advocates, and a Commissioner of the ITU/UNESCO Broadband Commission for Development. He has authored three New York Times bestsellers in the past seven years: The End of Poverty (2005), Common Wealth: Economics for a Crowded Planet (2008), and The Price of Civilization (2011). His most recent books are To Move the World: JFK's Quest for Peace (2013) and The Age of Sustainable Development (2015).
Professor Sachs is widely considered to be one of the world's leading experts on economic development and the fight against poverty. His work on ending poverty, promoting economic growth, fighting hunger and disease, and promoting sustainable environmental practices, has taken him to more than 125 countries with more than 90 percent of the world's population. For more than a quarter century he has advised dozens of heads of state and governments on economic strategy, in the Americas, Europe, Asia, Africa, and the Middle East.
This free event is presented by the Lind Initiative.
If you missed this lecture, you can watch the webcast here!

To confirm if you have appropriate browser and connectivity please check the Viewer Requirements Test Site
---
Lind Initiative in U.S. Studies
The inaugural Lind Initiative  welcomes prominent scholars, writers, and journalists to lead a campus-wide dialogue on Inequality. This year's series includes Columbia University economists Joseph Stiglitz and Jeffrey Sachs, journalists Jill Abramson and Andrew Sullivan, author Teju Cole, and Green Party of Canada Leader and Member of Parliament Elizabeth May.
The Lind Initiative in U.S. Studies is an annual dialogue series, hosted by the Liu Institute for Global Issues at UBC, created to address the most urgent issues of our time.  The focus of the Lind Initiative's inaugural year is Inequality. The dialogue is led by Nobel Laureate Joseph Stiglitz, who joins UBC to teach and lecture.