UBC Women's Field Hockey Turns 107 Years Old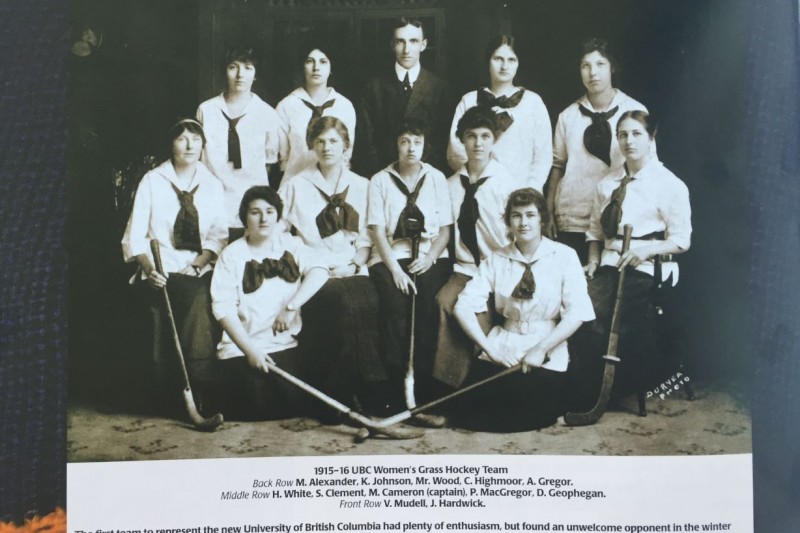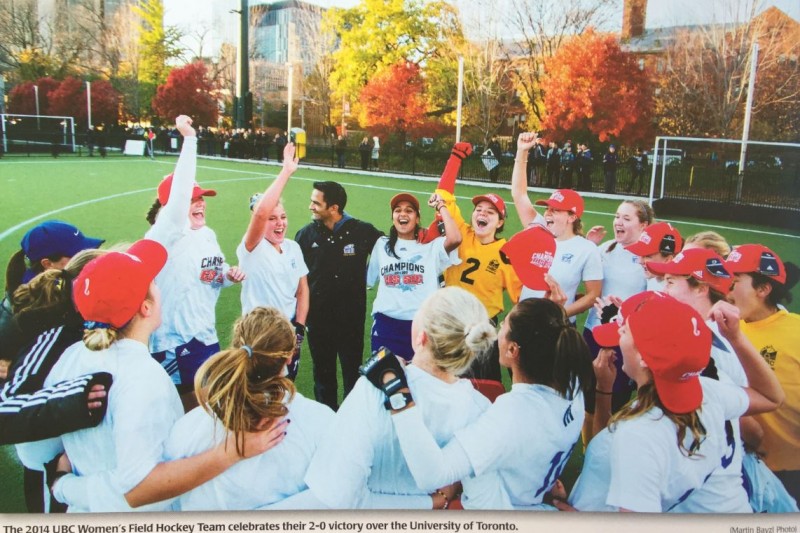 By Fred Hume
It is one of the originals . . . and yes, we are celebrating UBC's 100 years yet women's field hockey at UBC is actually 107 years old. It was fall 1908 when UBC, then known as McGill University College of BC, first opened its doors and introduced women's field hockey along with rugby as its first varsity sports. Now in 2015 we at UBC celebrate a century plus of field hockey history.
For over a century women's field hockey has been more than a presence at UBC, it has been a source of pride and tradition especially through the university's formative years when women's field hockey was one of the sports which helped mold UBC's identity, participating in such competitions as the "Victoria Invasion."
Playing in the local Lower Mainland Field Hockey League the students in the 1930s started to gain more profile. Bea Hastings, Faye Burnham and Myrne Nevison were star players and leaders for UBC during this decade.
The late 1940s through the 1950s saw the beginning of the women's team's "modern era tradition" starting with the influence of May Brown who coached UBC from 1947 until 1955. UBC during these years were annual winners of the Pacific Northwest Intercollegiate tournaments often undefeated and unscored upon. Players such as Helen Matheson during the early 1940s and later Charlotte Warren who benefitted from the guidance of coach Brown during the 1950s, were exceptional.
It was in 1956 Canada sent its first "national' team to an international event, the World Field Hockey Championship in Australia and as it happened this landmark team was inspired and initiated by five members of the Big Block Club who were on May Brown's UBC team. Twenty three years later, in 1979, it would be UBC that would serve as the host and venue for the Women's World Cup of Field hockey with Canada's team boasting several UBC players including future Hall of Famer, Shelley Winter.
UBC was strong during the early 1960s as evidenced by the 1963 Canadian National team which featured five UBC players on its roster led by captain Barb Hart. It was during these years and well into the 1970s that the Blue & Gold benefitted from the coaching and teaching of UBC and BC Sports Hall of Famer, Barbara "Bim" Schrodt, who maintained the university's winning tradition with city championships, PNW championships and Canada West titles.
The UBC winning experience continued during the late 1970s and into the 1980s under the tutelage of coach Gail Wilson. During Gail's sixteen years her UBC teams won five CIS championships, set a UBC consecutive victory record and saw a 1982/83 team execute a perfect 25 – 0 record while outscoring its Canada West opposition 72 – 1. Some of the best played during these years including Olympians Melanie Slade and Penny Cooper.
From 1993/94 until 2013/14 Hash Kanjee took charge of the UBC pride and history and did this in style. His teams won ten CIS championships which is the most of any UBC field hockey coach. In fact, with sixteen national championships as of 2015, UBC leads the national university title count – more championships than all other Canadian universities in women's field hockey history. During his years Hash guided many nationally and internationally recognized players while his 1998/00 team joined the 1982/83 team as the two field hockey teams inducted into the UBC Sports Hall of Fame.
A significant development of the early 2000s was the installation of a dedicated field hockey artificial field here on campus. In 1998 with a major donation from UBC alumnus Harold Wright and support from the UBC Athletics Department, the dream of a world class artificial turf facility for field hockey was born. Wright Field came into being in 2001. And as it happens, Hash Kanjee's successor, Robin d'Abreo, who took the coaching reins in 2014, launched an ideal beginning to the continuation of the pride, dedication and tradition – there's that word again – that characterizes this sport at UBC by guiding the 2014/15 Blue & Gold to the CIS championship title.
---
Additional resources on the history of UBC Athletics and women's field hockey at UBC:
UBC Women's Field Hockey Celebrating 100 Years and Flight of the Thunderbirds by Lesley Magnus and Hash Kanjee

Flight of the Thunderbirds: A Century of Varsity Sport at the University of British Columbia by Don Wells