Raising the Bar: Building on 100 Years of Excellence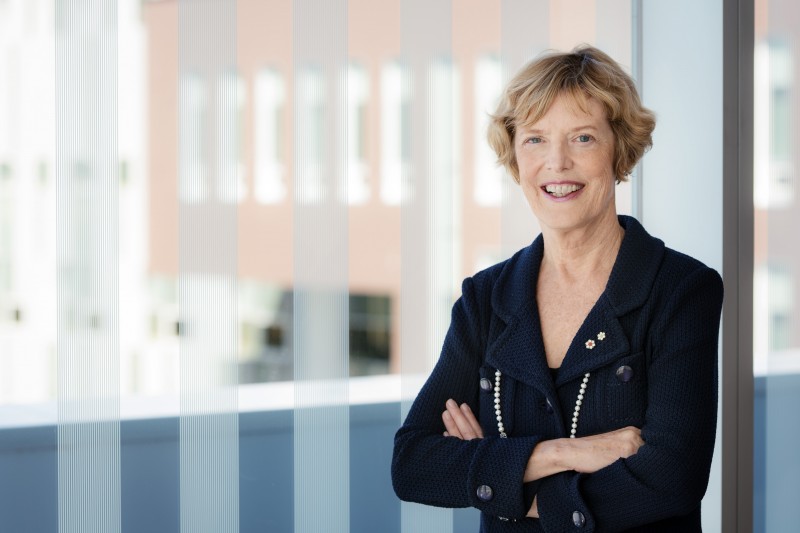 by Dr. Martha C. Piper
The answer: The best university in Canada.
The question: If, in its first 100 years, we could build the University of British Columbia – from nothing – into one of the top 40 research universities in the world, what should we aim to become in our second century – indeed, in the next 10 years?
This is an ambitious goal, but one thing should be clear: UBC will not tread timidly into the next 100 years. We have an incredible foundation – a faculty, a student body and a physical plant that would be the envy of most of the world. We also have the location of choice, connecting Canada to a still emerging Pacific Rim. Given those advantages, we are – surely – honour bound to rise to the challenge.
If we are looking for inspiration going forward, it doesn't hurt to look back at UBC's history. Ours were modest beginnings – despite the ambitions of the time. In 1913, when the first plans were cast for a Point Grey campus, the provincial government promised a budget that would have put UBC immediately on the international academic map.
It's no one's fault they didn't deliver. A year later, the world was gripped by war and the provincial treasury had slipped into deficit. With little funding forthcoming, UBC opened its doors on September 30, 1915, in the "Fairview Shacks," a clutch of rundown buildings on the grounds of what is now Vancouver General Hospital.
In UBC: The First 100 Years, authors Eric Damer and Herbert Rosengarten offer a compelling, if uninviting, picture of a university in its infancy: "The institution had no history, no alumni, and no benefactors; its physical plant was embarrassingly inadequate and its budgetary situation precarious."
Perhaps worse, the ambition also seemed to have disappeared. As Damer and Rosengarten report, our founders welcomed UBC's charter students with a promise to "provide a satisfactory education…comparable to that offered by other Canadian universities."
Nothing special. And not nearly enough.
Seven short years later, the city, the region and the world got its first big UBC wake-up call when 1,178 UBC students, a handful of professors and a surprising number of UBC alumni launched a protest march – later to be known as The Great Trek – to demand that the province revive its promise to build the university. The next week, the Alma Mater Society president delivered a petition to the Legislature with 56,000 names.
We know what followed: a century of innovation in everything from forestry and mining to clean energy and biotechnology; a century of top quality education in every discipline; and a century of athletic, artistic and cultural accomplishments. From its first 379 students in those cramped shacks, UBC now has 60,000, on Point Grey, in Kelowna, at Robson Square and Great Northern Way, in the Downtown Eastside Learning Exchange, and in co-op and internship placements across the country and around the world. Our annual economic impact is more than $12 billion, which includes $1.4 billion in Kelowna. In research alone we spend more than $530 million a year, the lion's share of which we earn in peer-reviewed competition with the other best research universities in the country.
When I say "best," the superlative is both intended and justified. In addition to being ranked in the top three medical doctoral institutions in Canada, we're also among the top 40 in the world. And those numbers offer more than boasting rights. Just as we compete on merit for research funding, we also compete by reputation for students, faculty and donor support. Rank matters.
So it is appropriate that we would thank taxpayers who support us economically and community members and businesses who engage with us, taking what we have to offer and, always, demanding more. We also should thank UBC's 305,000 alumni, whose capacities and accomplishments are the primary measure by which any great institution must be judged.
Of course, we're measured by other means, as well. The international rating agencies focus on how often UBC's faculty and researchers are published and cited. They look for Nobel Prize winners – finding seven among our alumni and current and former faculty. You might also consider the 69 Rhodes scholars who earned their undergraduate degree at UBC, and the Academic All-Canadians and Thunderbirds who have won as varsity athletes and gone on to represent Canada on every sporting podium, including the Olympics. Among alumni and former faculty, you might consider the BC premiers – Mike Harcourt, Glen Clark, and Ujjal Dosanjh – and the prime ministers – John Turner, Kim Campbell and Justin Trudeau. You might ponder the impact of great jurists – including Frank Iacobucci and Beverley McLachlin – and spectacular artists and performers, like Sam Black, B.C. Binning, Ben Heppner and Judith Forst. You might, especially, look to the donors and alumni who, in our historic fundraising and alumni engagement campaign – start an evolution – have contributed more than $1.624 billion to what we consider the margin of excellence, the funding that allows us to raise the bar and engage more than 130,000 alumni in the life of the university.
All of which brings us back to the original point: it may be risky to state that UBC can – and should – distinguish itself in the next decade as the best university in the country. But it's a risk worth taking. One result is guaranteed: every British Columbian will benefit from the success that we generate in pursuit of that goal.
The Vancouver Board of Trade hosted a keynote address by Dr. Martha Piper on Tuesday, November 17, 2015.  Download a copy to Dr. Piper's keynote speech on "Raising the Bar: UBC's Upward Trajectory."