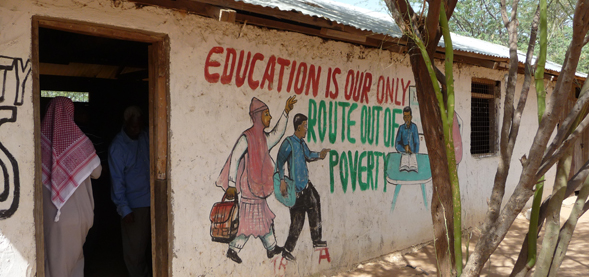 In our increasingly interconnected society, it's no surprise that 97 per cent of the University of British Columbia's incoming domestic students choose "to be successful in a diverse world" as one of their highest priorities.
For Moira Warburton, who did an exchange at L'Institut d'Études Politiques in Grenoble, France as a third year Arts and Political Science major, gaining a global perspective meant taking a risk and experiencing somewhere completely new through Go Global.
In her exchange story, Warburton writes that, "you can learn in your university lecture halls about how there's seven billion people in the world, and you can sit there as your eyes glaze over and try to picture seven billion of anything. And you can't: it's too much. It's too big. And then you leave. You get on a plane and you go somewhere else and you get really good at going up to people and saying, 'Hi, I'm Moira. What's your name?' And inch by inch, piece by piece, day by day, that seven billion gets a little more manageable."
Partnered with over 200 universities and institutions worldwide, Go Global programs allow students like Warburton to venture out, build skills and gain new perspectives. Over 22,000 students have participated through exchange programs, month-long Global Seminars or conducting graduate research abroad—just some of the many ways UBC helps students prepare to succeed in a rapidly changing world.
Student exchanges complement our many joint degree programs and international research and academic partnerships, connecting the university with top talent worldwide. With 60,000 students from 140 countries and a network of 300,000 alumni across the globe, UBC has earned an international reputation as a hub of academic and research excellence.
Yet, the global institution UBC is today would have been virtually unrecognizable to our founders. Since opening its doors in 1915, UBC has grown from a small university with a mandate to educate and serve the people of British Columbia, to Canada's most internationally engaged university, educating global citizens and contributing to the wellbeing of communities around the world.
This includes helping to build capacity in developing countries and other regions, as UBC's Faculty of Education is doing by 'teaching the teachers' in one of the largest refugee camps in the world. The camp in Dadaab, Kenya, hosts close to half a million refugees escaping violence in neighbouring Somalia and other African countries. By significantly raising the standard of secondary education at the camp, the project will improve the life chances of its young refugees.
The Borderless Higher Education for Refugees (BHER) project is the result of a partnership between UBC, York University in Toronto and three Kenyan institutions. By providing access to quality training through a secondary teacher education diploma program, delivered by university faculty, the project will raise the standard of teaching at the camp. The program gives young students the chance to perform better on Kenyan national exams and the hope of leaving the camp for post-secondary education. For young refugees having fled from war-torn homelands, access to a quality education offers an alternative future.
In Dadaab, British Columbia and communities in between, UBC is a key player in tackling and finding solutions to global problems. UBC has become one of the top 25 public universities in the world and is poised to extend its reach even further in its second century.