Educating the Next Generation of African Leaders at UBC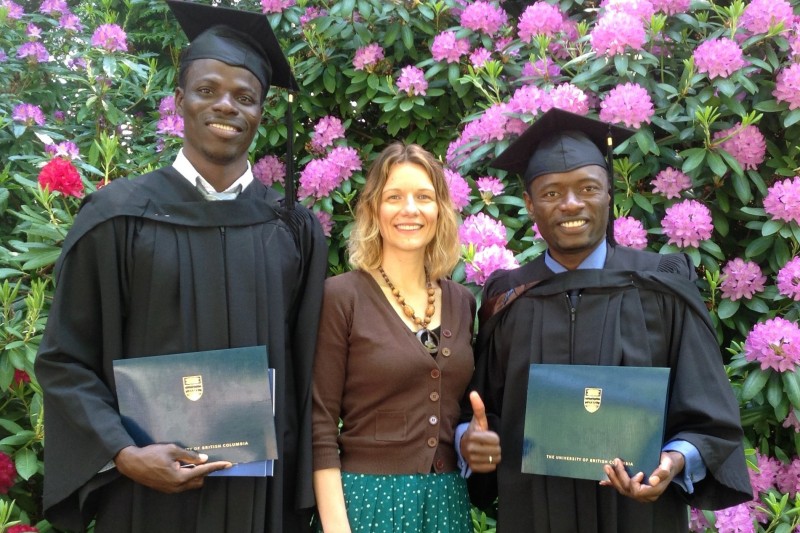 "My year at UBC has defined me and transformed my way of thinking," says Jonathan Abagre, a scholarship student from Ghana. Abagre and classmate Patrice Meteunou, from Cameroon, are the first two graduates of UBC's MasterCard Foundation Scholars Program, a 10-year global initiative aiming to educate the next generation of African leaders.
The program, launched in 2013, offers more than a financial scholarship. UBC, like other global MCFSP partners, gives these promising yet economically disadvantaged young people a top-tier education augmented by mentorship, leadership workshops and internships. In return, the MasterCard Scholars commit to taking their knowledge back home.
UBC has a long history of welcoming students from around the world. In 1949, a young East African student started a club for the 147 non-Canadian students at the university. They met in a refurbished army hut. The Rotary Club and UBC teamed up to build a proper space and 10 years later, Eleanor Roosevelt inaugurated Canada's first International House. Today, more than 11,000 international students study at UBC in Vancouver.
For students like Abagre and Meteunou, both proud new holders of Masters in Sustainable Forest Management, joining the ranks of UBC's international students was the accomplishment of a lifetime. "If you are a forestry grad from UBC, it really means something in the world," says Meteunou.
Both young men quickly discovered that prestige is hard earned. "It was intensive," says Meteunou. "Lots of assignments, lots of fieldwork, lots of new software to master, lots of critical reading, and very tough exams." He often felt at a disadvantage working beside students brought up in the Canadian education system. But he persisted, with hard work and with support from his program mentor. Abagre's determination helped him get through the rigorous UBC program. "I am so proud of finishing. Now I feel I can handle any pressure I might face in the future."
MCFSP Program Director Jolanta Lekich is struck by the resilience she's seen in the African students. "They've faced so many obstacles in their young lives, yet they persevere. They show up on campus with an amazingly positive attitude, keen to participate in everything and to speak up in class. They work so very hard. It is incredibly rewarding to support such deserving students."
What is next for these young men?
Meteunou plans to launch his own forestry consulting company in Cameroon. "I have learned from the best in the world, and now I want to use those skills to bring government and forestry companies together to sustainably manage our forests." Eighty percent of Cameroonians rely on forests for food, fuel and jobs, so sustainability is crucial. Meteunou says illegal logging and climate change make for difficult challenges.
Abagre is figuring out how to apply his education in Ghana. First, he's gaining valuable work experience as a forestry-planning officer in Williams Lake, as well as helping out in local firefighting efforts.
Over the next decade, 112 African students will attend UBC in both graduate and undergraduate programs, thanks to a $25 million grant from The MasterCard Foundation. Lekich says the benefits of the program go both ways. "Our campus is a much richer place with these students introducing us to a whole new way of seeing the world."