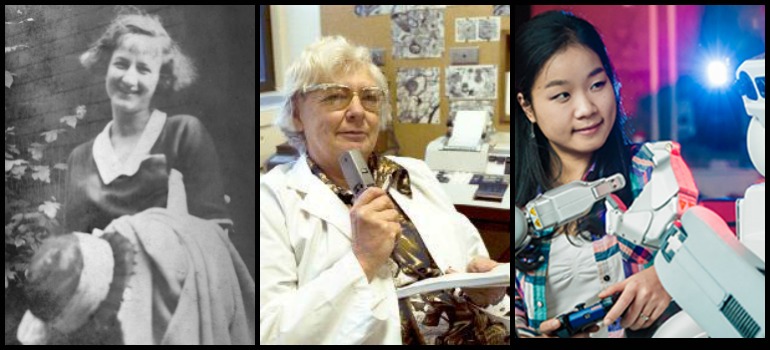 To mark International Women's Day this year, UBC is hosting an event that examines female leadership in science, engineering and medicine. Historically women have been underrepresented in these fields but today we are moving toward more equal representation and organizers of the event say diversity is critical to scientific discovery.
The event, 100 Years WISE: Women in Science and Engineering, Bridging the Past and the Future, will be held this Wednesday evening at UBC. Three speakers from the event share some of the lessons they've learned about women in science and engineering.
Why is it important to have a conversation about women in leadership in science, engineering and medicine?
Judy Illes, professor of neurology and director of the National Core for Neuroethics at UBC: My colleagues and I felt it was important to showcase women who are leaders in the sciences, medicine and engineering. We're pleased that Nadine Caron, the first aboriginal woman to graduate from the UBC Faculty of Medicine, Maria Klawe, president of Harvey Mudd College (a top U.S. engineering, science and mathematics college), Sheri Sheppard, an award-winning engineering professor from Stanford, and others will be joining us. Many of these women went to school and started their careers when men dominated their fields. Today they are all recognized for the incredible contributions they've made and more importantly for how they are changing the status quo.
I sat on the jury for the Canadian Science and Engineering Hall of Fame for several years and felt compelled to resign when not a single woman was nominated and little progress was being made to address this gap. Women leaders must be celebrated and recognized to encourage future leaders in science and engineering. With this event, we'll hear directly from women about what they've learned, their advice for future leaders, and the changes that still need to be made.
The title of your talk is the "Unintended consequences of showing up (in heels)". What has been your experience as a woman in engineering?
AJung Moon, PhD candidate at UBC's Collaborative Advanced Robotics and Intelligent Systems Lab: It's not an everyday event for me to think about my gender with respect to my engineering career. I don't feel like I'm treated differently in my everyday work or amongst my friends, regardless of the fact that I am indeed in the minority gender group. I think that's because so many women before me showed up and made a difference for female engineers of my generation. Outside of my everyday work or social situations, however, people often remark that I am the first or the second female roboticist they have ever met and I am immediately reminded of my gender.
I'm learning to follow the footsteps of the trailblazers before me. Whether it's work or a social, academic or robotics event, I show up as me: a Korean-Canadian woman in my late twenties who wears heels and earrings while programming robots.
How do you think diversity helps move science forward? As a man, what can you bring to the conversation?
Simon Peacock, dean of the UBC faculty of science: Our society faces complex challenges, like climate change and global health, involving multiple dimensions and stakeholders. Meeting these challenges requires listening to and understanding diverse points of view. We must make full use of our collective talents. Solutions to complex challenges often come from unexpected voices; voices that won't be heard if they're not present. Our work toward an increasingly diverse faculty of science isn't only about equity it's about exceling. Diversity is essential to achieving our science education and research goals.
To participate meaningfully in a conversation, step one for me is to learn, to educate myself about diversity issues and perspectives, like unconscious bias. I learn best by engaging in direct, open and constructive conversation with colleagues. I view part of my role as dean as ensuring colleagues are able to discuss difficult issues freely and in a respectful way. I also advocate for the importance of diversity in science at planned events and whenever an opportunity arises.
The 100 Years WISE event, a UBC Centennial Session, will be held Wednesday at 7 p.m. at the Chan Centre for the Performing Arts, 6265 Crescent Road. Click here for a list of speakers, information and tickets.