The University of British Columbia has announced the results of its start an evolution campaign – the most ambitious fundraising and alumni engagement campaign in Canadian history. The seven-year campaign was the first in Canada to set the twin goals of raising $1.5 billion and doubling the number of alumni engaged actively in the life of the university by 2015.
The campaign, which officially began in April 2008 and was launched publicly in September 2011, closed on September 30, 2015, and exceeded both of its targets by engaging 130,000 alumni and raising $1.624 billion to enhance student learning, expand research capabilities and extend community engagement. As part of the campaign, UBC's Okanagan campus raised more than $100 million and doubled its own alumni engagement levels.
UBC President Martha Piper announced the results today in a speech to the Vancouver Board of Trade. "I could not be more proud of our donors, alumni and friends who have made this visionary campaign so successful," Piper said. "I am particularly pleased that these magnificent numbers were achieved by 61,000 donors and 130,000 engaged alumni, many of whom offered their time and talents as mentors and volunteers. This level of involvement allows us to build the excellent research and student learning opportunities that make UBC a world leader."
The start an evolution campaign encompassed a broad range of initiatives, including the MasterCard Foundation Scholars Program and the David R. Cheriton Chair in Computer Science. It also saw the naming of the Peter A. Allard School of Law, the establishment of the Djavad Mowafaghian Centre for Brain Health and the opening of the Audain Art Centre.
The largest single bequest was received from the estate of triple alumna Judith Jardine (BA'46, MA'47, BLS'71), and the student Alma Mater Society gave the single largest gift to the campaign to help build The Student Nest – a new, state-of-the art multifunctional facility for all UBC students.
The honorary chair of the campaign is alumnus and former Chancellor Bob Lee (BCom'56, LLD'96) whose name adorns a key campaign legacy, the new Robert H. Lee Alumni Centre, which was opened on September 30 to mark the university's centennial.
The present Chancellor and Co-Chair of the campaign is alumnus Lindsay Gordon (BA'73, MBA'76). "It is wonderful to see the impact that the campaign has had on our 305,000 alumni across the globe and our 60,000 students in Vancouver and the Okanagan," Gordon said. "This historic community effort ending in UBC's centennial year puts us in the best possible position to stay on an upward trajectory and to face the global challenges of our second century."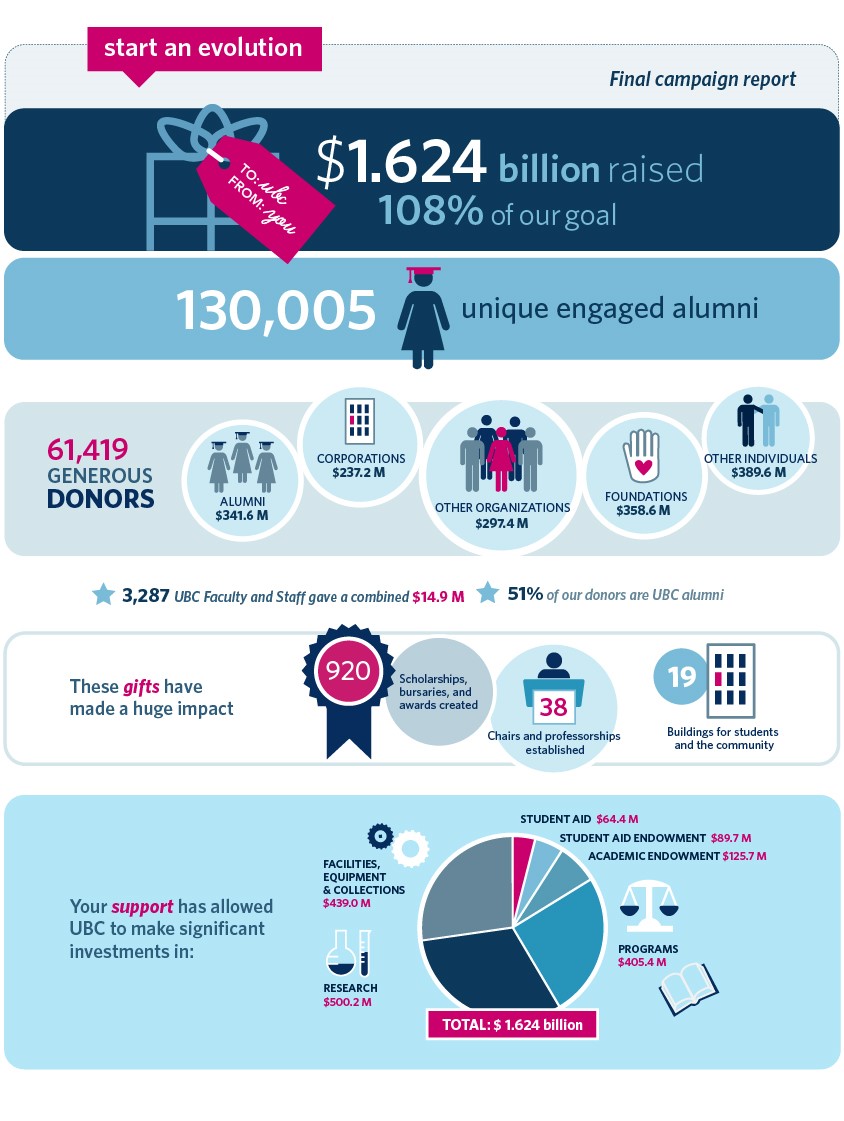 For more information about the campaign, visit: http://startanevolution.ca or watch our video: https://youtu.be/-fuffzxCv_Q
Campaign Cabinet
HONORARY CAMPAIGN CHAIR
Robert H. Lee, CM, OBC, BCom'56, LLD'96
CAMPAIGN CO-CHAIRS
Lindsay Gordon, BA'73, MBA'76
Phil Lind, CM, BA'66, LLD'02
Brenda McLean, BA'68 (Queen's), Honorary Alumna'07
CAMPAIGN CABINET
Michael J. Audain, OC, OBC BA'62, BSW'63, MSW'65, LLD'14
Anthony C.B. Cheng, MD'67
David R. Cheriton, BSc'73
Peter P. Dhillon, OBC, BA'88, LLB
Randall J. Findlay, BASc'73
Blake Hanna, MBA'82
Ossama R. Hassanein, MASc'74, MBA'76
Jacqueline L. Koerner
Ross Langford, BCom'89, LLB'89
Bill Levine, BA'63
Jim Meekison, BA'61, MA'62, MBA'64 (Harvard)
Lois Mitchell, CM, AOE
Paul L. Mitchell, QC, BCom'78, LLB'79
Sarah Morgan-Silvester, BCom'82
Sue Paish, QC, BCom'81, LLB'82
Ian Robertson, BSc'86, BA'88
Sheldon Trainor, BCom'88
Hari B. Varshney, OBC, FCA, Honorary Alumnus'15
Joan Wasylik, BA'77, MPR'80 (Southern California)
Joseph Yu, MBA'71