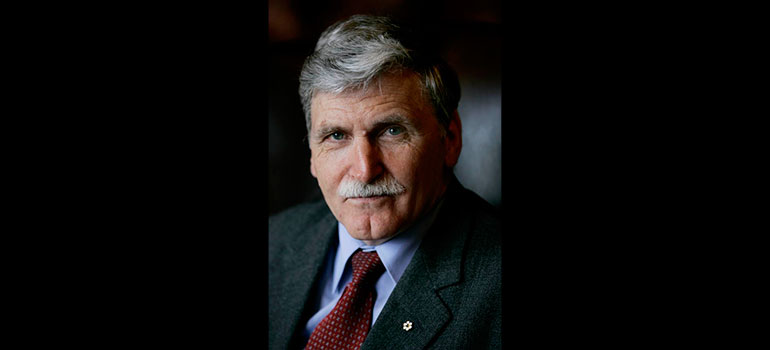 Retired Lt.-Gen. Roméo Dallaire, one of Canada's foremost humanitarians, is to be recognized with an honorary degree from the University of British Columbia.
Dallaire will be presented with an honorary Doctor of Laws during the award ceremony for the Allard Prize for International Integrity on October 1 at UBC's Old Auditorium. He will also be the keynote speaker.
Dallaire's actions as force commander of the United Nations Assistance Mission to Rwanda (UNAMIR) during the 1994 genocide helped save thousands of lives. He famously chronicled his experience in a book, Shake Hands With The Devil: The Failure of Humanity in Rwanda, which was later adapted into a 2004 documentary and a 2007 feature film.
"Retired Lieutenant-General Roméo Dallaire's humanitarian commitment, honesty, and integrity have made a lasting imprint around the world," said Catherine Dauvergne, dean of the Peter A. Allard School of Law. "He is an inspiration to all Canadians who seek to make a difference in the world."
Dallaire media enquiries can be directed to the National Speakers Bureau. Contact Stephaney Bird at 1.800.661.4110 x 305 or SBird@nsb.com
BACKGROUND
About retired Lt.-Gen. Roméo Dallaire
Dallaire served more than 30 years with the Canadian Armed Forces. He is the founder of The Roméo Dallaire Child Soldiers Initiative, a global partnership committed to ending the recruitment and use of child soldiers worldwide. He is also a senior fellow at Concordia University's Montreal Institute of Genocide Studies, and Dalhousie University's Centre for Foreign Policy Studies, and co-director of the Will to Intervene (W2I) project for the Montreal Institute for Genocide and Human Rights Studies (MIGS).
Dallaire is an Officer of the Order of Canada, a Grand Officer of the National Order of Quebec, a Commander of the Order of Military Merit, recipient of the Pearson Peace Medal, the Meritorious Service Cross, the United States Legion of Merit, the Aegis Award on Genocide Prevention, the Harvard Secular Society Humanism Award, the Edita and Ira Morris Hiroshima Foundation for Peace and Culture Award and the United States Holocaust Memorial Museum Elie Wiesel Award.
Dallaire now dedicates his time to humanitarian causes.
About the Allard Prize for International Integrity
The award ceremony for the $100,000 Allard Prize for International Integrity, a premier event of UBC's Centennial, takes place October 1, from 6:00 p.m. to 7:30 p.m. at the Old Auditorium (6361 Memorial Rd, Vancouver,), followed by a reception in Allard Hall (1822 East Mall, Vancouver).
The Allard Prize is awarded once every two years to an individual, movement or organization that has demonstrated exceptional courage and leadership in combating corruption, especially through promoting transparency, accountability and the rule of law. http://www.allardprize.org/
About the Peter A. Allard School of Law
The Peter A. Allard School of Law is committed to being one of the world's great centres for legal education and research. As part of an outstanding public university situated in one of the most open, diverse, and beautiful places in the world, the Allard School of Law offers an inspiring environment that combines rigorous professional legal training with an awareness of the role of law in society. Its faculty engages in research with national and global reach and provides students with some of the most extensive and innovative curricular opportunities of any Canadian law school. The law school offers strengths in many fields, including business law, international law, environmental and natural resources law, and Indigenous legal issues. Graduates have gone on to leadership positions in a broad range of spheres, from the legal profession, to government, public interest organizations, business and academia. http://www.allard.ubc.ca/