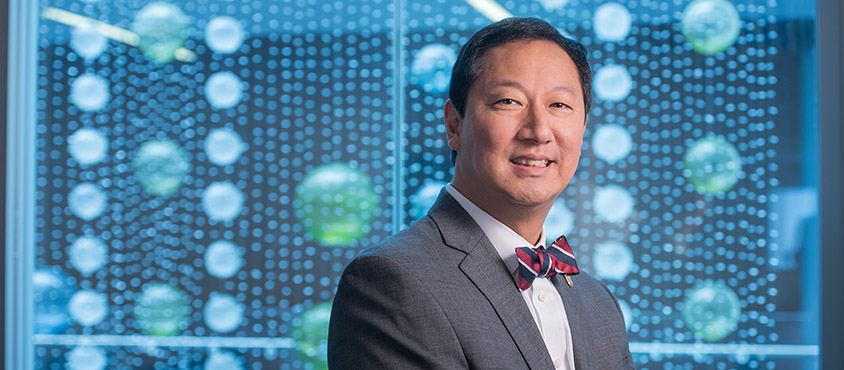 A Vancouver-born biomedical researcher who is a pioneer in experimental medicine with an established track record as a senior leader at U.S. universities has become the 15th President and Vice Chancellor of the University of British Columbia, the university announced today at the Peter A. Allard School of Law on the Vancouver campus.
Since 2012, Dr. Santa Jeremy Ono has served as the President of the University of Cincinnati (UC) in Cincinnati, Ohio. Prior to that, he served as the Senior Vice President for Academic Affairs and Provost at UC. Under his leadership, UC achieved its largest enrollment in its history and received numerous accolades, including being named Public University of the Year by the Washington Center.
Ono, whose parents emigrated from Japan, is one of only a handful of North American research university leaders of Asian descent. He is widely recognized as a social media trailblazer in the post-secondary education sector—engaging campus communities and inspiring passionate interest in learning and research through an online presence that has captured the hearts of thousands.
"I am greatly humbled by the opportunity to lead one of the world's greatest universities," said Ono. "UBC attracts the best and brightest faculty and students. It is uniquely positioned on the Pacific Rim and boasts one of the most diverse and sustainable campuses. I relish the opportunity to help UBC realize its aspirations and destiny as a truly global university."
For Ono, returning to UBC is a homecoming of sorts. His father, Takashi Ono, is an accomplished mathematician, who formerly taught as a faculty member in UBC's Math Department, which explains how Ono came to be born at St. Paul's Hospital just 20 minutes away. His father is also a gifted pianist, who passed on his love of music to his son, who himself plays the cello.
The UBC Board of Governors voted unanimously to appoint the president following an international search by a 21-member committee comprising faculty, staff, students, alumni, senate and board members from UBC's Vancouver and Okanagan campuses, and chaired by UBC Chancellor Lindsay Gordon.
"I want to thank the committee for finding a visionary leader who is going to challenge and inspire us all," said Board Chair Stuart Belkin. "UBC was founded more than 100 years ago to explore new research frontiers and to create the problem-solvers of tomorrow, and as we look to the future, Dr. Ono is an exemplary role model and personification of that innovative spirit."
Ono succeeds Interim President Martha Piper, who will retire June 30. He will become president on August 15 for a five-year term. Dr. Dave Farrar, previous UBC Provost and Vice President Academic and Senior Advisor to the current President, has agreed to take on the role of Interim President after June 30 and prior to Dr. Ono's arrival.
"I also want to take this time to recognize Dr. Martha Piper for her exceptional service to UBC," Belkin said. "She served as UBC president for nine years in the 1990s, and then again this past year, and I know the students, staff and faculty greatly appreciated her warmth, experience and wisdom."
VIDEO
BACKGROUND
UBC
UBC is home to 18 faculties, 12 schools and three colleges, offering a wide range of innovative programs in arts, sciences, medicine, law, business and other faculties. The university has more than 61,000 students and 15,000 faculty and staff, with an annual budget of $2.3 billion and an estimated $12.5-billion annual contribution to the B.C. economy. It is ranked the sixth best public university in North America, according to the Times Higher Education Rankings 2015-16.
Santa Ono (Please see Biography for more details.)
Born in Vancouver, Ono earned his BA in Biological Science at the University of Chicago and his PhD in Experimental Medicine at McGill University. His principal research interests focus on the immune system and eye disease.
Prior to being recruited to UC, Dr. Ono served at Emory University as Vice Provost for Academic Initiatives and Deputy to the Provost and then Senior Vice Provost for Undergraduate Academic Affairs. Earlier in his career, he served in a variety of teaching, research and administrative positions at the Johns Hopkins School of Medicine, Harvard Medical School and the Schepens Eye Research Institute, University College London and Moorfields Eye Hospital in London.
He was elected a Fellow of the American Association for the Advancement of Science in 2012, inducted as a member of the National Academy of Inventors in 2014, and inducted into the Johns Hopkins University Society of Scholars in 2015.
Ono and his wife Wendy Yip, an accomplished scholar in her own right, have two daughters.