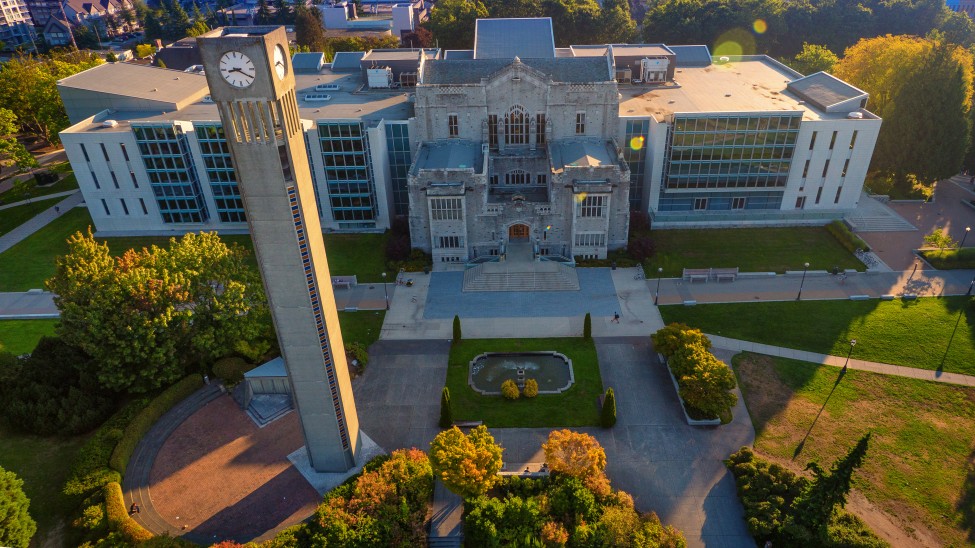 Ten gifted students from around the world who have risen from challenging circumstances and given back through volunteering have been named Centennial Leaders award recipients by UBC. These recipients will receive "full-ride" scholarships covering everything from tuition to housing to food, up to a value of $80,000 over the course of their studies at UBC.
"What is unique about our Centennial Leaders is that despite their own struggles, they all give their time volunteering for community causes – from helping feed the homeless to assisting physically challenged people with fitness training," said Kate Ross, associate vice-president, enrolment services and registrar. "They truly are remarkable young people and we are thrilled to be able to help them realize their goals here at UBC."
For Syrian-born, Surrey-raised Christian Michel Francis, getting the Centennial Leader call from UBC has changed everything: "It was unbelievable. I couldn't speak. I was so in shock. You could tell how relieved my father was and so sure he was I could be successful at UBC," said Francis.
The Centennial Leaders are part of UBC's Centennial Scholars Entrance Award Program, which supports academically qualified Canadian students who cannot attend UBC without significant financial assistance. UBC presented 100 one-time and renewable Centennial Scholar awards this year, doubling the number of awards from previous years.
In 2015/16, UBC provided $70.2 million in financial aid and awards for more than 13,500 students.
2016 Centennial Leaders:
Giuseppe Cagliuso – Burnaby, B.C.
Christian Michel Francis – Surrey, B.C.
Kara Froese – Cranbrook, B.C.
Natasha Donika Jollymour – Savona, B.C.
Louisa Xiluva Hill – Maputo, Mozambique
Elina Kreuzberg – Ottawa, ON.Kenji Lai – Vancouver, B.C.
Regan Sander Oey – Vancouver, B.C.
Jared Eugene Sexsmith – Lumby, B.C.
Zachary Andrew Whynot – Camperdown, N.S.
Two Centennial Leaders are available for interviews:
Christian Michel Francis, 17, Surrey, Holy Cross Regional High School
Francis's family arrived in Canada from Syria when he was 18 months old. The youngest of four children, he has been interested in UBC since he was in Grade 2, inspired by a teacher's stories of the university.
He graduates from high school this year with an exceptional 97.2-per-cent average.
This, along with a part-time fast food job and a volunteer position with Fraser Health Authority where he helps disabled adults work out in a Surrey gym.
But his main focus is his family. Francis's mother died of breast cancer in 2015 and his father is unable to work due to rapidly advancing macular degeneration. Francis and his brothers and sisters all do their part. For Francis, that meant donating his education savings to support the family home.
Getting the Centennial Leader call from UBC has changed everything.
"It was unbelievable. I couldn't speak. I was so in shock. You could tell how relieved my father was and so sure he was I could be successful at UBC," Francis recalls.
As for other students struggling against the odds as he did, Francis's advice is simple: "Their time will come. Keep working hard. Be honest with everything you do and your time will come. Never give up."
Francis starts a bachelor of science degree in September and is aiming to study cardiology or radiology in the UBC Faculty of Medicine.
Kara Froese, 24, Cranbrook, College of the Rockies
"Live like you talk."
It's a phrase that neatly encapsulates Kara Froese's commitment to protecting the environment and wilderness. She's not just talking about it.
The second-year College of the Rockies student in Cranbrook is a full-time student, plays volleyball on the school's team, volunteers for Cranbrook Search and Rescue and holds down a part-time lifeguarding job. On the rare occasion she isn't working or studying, you will find Froese in the mountains chasing her passion for the outdoors.
"A lot of the time I'm looking to unwind, shake off the stresses of the city. I'm not looking to "find myself", but I do find a bit of an anchor point in wild places. It also allows me to notice the flowers, trees, birds etc. and I like the challenge of trying to identify species I've never encountered before," she says.
Inspired by the writings of Farley Mowat and David Suzuki, Froese has long seen her studies and career following a path into the wilderness.
"The first question my parents asked was: 'How are you going to pay for it?'" she recalls.
"But once I get my mind onto something it's hard to let it go."
With the Centennial Leader award, Froese will start a forest sciences bachelor's degree in September.
"I would like to get an education that will further my understanding of the environment and help to protect the wild spaces around us," she says. "This is the one world we have and it's really important we take care of it."