May 28, 2016
Key events at 1:30pm, 3:00pm and 5:00pm.
UBC Vancouver Campus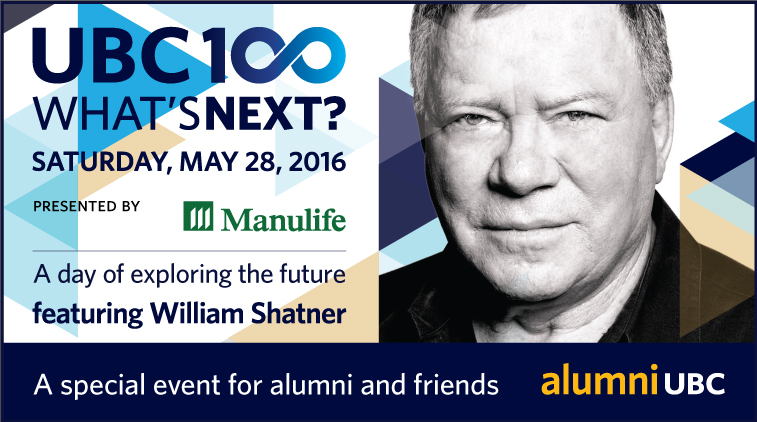 Great things happen when our brightest minds have the freedom to explore. When we pursue our unique interests, the resulting collective capacity for innovation is limitless. The issues of the future will require these creative solutions as the need to build connections between people, nations and disciplines has never been greater.
On May 28th, join us at the Vancouver campus as we close out UBC's Centennial year. Hear from some great minds providing perspectives on topics of the future and take advantage of complimentary admission to select UBC attractions*. Be sure to visit the beer garden with event mainstage and food truck festival near the Robert H. Lee Alumni Centre. The day culminates in a talk from William Shatner about the importance of living a life driven by curiosity.
Program:
1:30-2:30 pm
Rick Hansen, BPE'86, LLD'87 – Future of Accessibility
Tzeporah Berman, LLD'13 – Future of the Planet
3:00-4:00 pm
Meeru Dhalwala, LLD (May 2016) – Future of Food Sources
Elizabeth Croft, BASc'88 – Future of Robotics
5:00 pm
William Shatner – The Curious Life
*Registration for the free attractions pass is required.
Questions? Please contact Alyssa Lee at 604-822-0515 or centennial.events@ubc.ca.