January 29, 2016
7:15pm to 10:00pm
Robert H. Lee Alumni Centre, 6163 University Blvd., UBC Vancouver Campus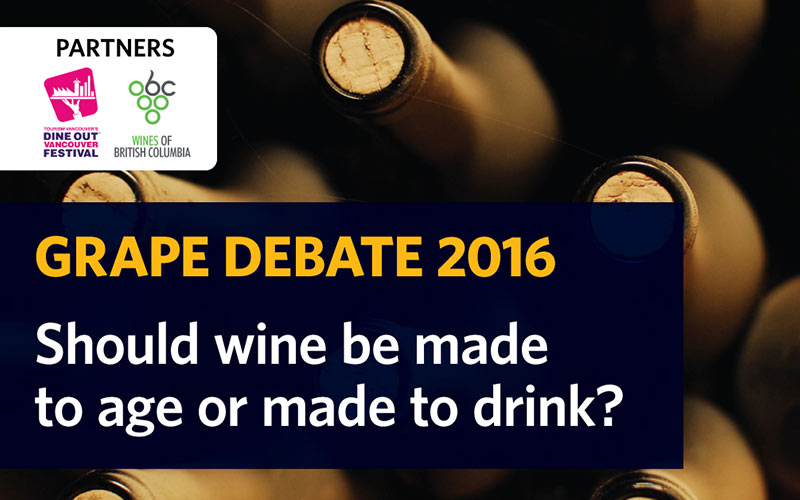 $40 per person. Add $10 for return transportation between downtown Vancouver and UBC. A service charge will be added to all ticket orders. 19+ event. Valid government issued ID required.
It's the ultimate act of delayed gratification – purchasing a bottle of wine with the intention of not opening it, possibly for many years. While the temptation of a well-stocked wine cellar is great, the rewards for ageing bottles are often much greater. Yet not all wine is made with the structure to support extended ageing. Stylistic decisions made by the winemaker can play a large role in determining when a wine is ready for drinking. Does the average wine drinker want to wait? Should the winemaker care? Should wines be made to be collected or enjoyed?
Join us for The Grape Debate, where our panel of wine experts will debate whether BC wineries should make wines for ageing, or for drinking right away. Following the program, sip your way through some of the finest BC VQA wines and cast your vote on the debate!
Presented by alumni UBC and the Wines of British Columbia, as part of Dine Out Festival Vancouver 2016.
To register and for more information, visit: http://www.alumni.ubc.ca/2015/events/the-grape-debate-2016/.