November 11, 2015
10:45am to 11:35am (Doors open at 10:00am)
UBC War Memorial Gym, 6081 University Blvd.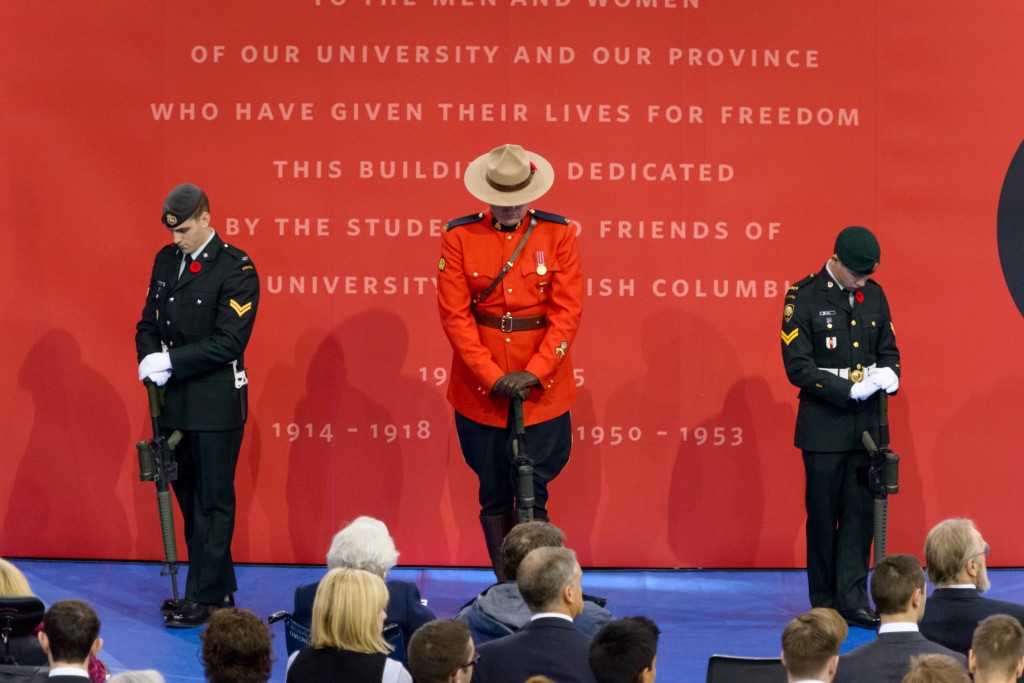 This year's Annual Remembrance Day ceremony at UBC will be held on Wednesday, Nov. 11th in the War Memorial Gym. The event is open to all and is an opportunity for all to honour and remember all those who served in times of war, military conflict and peace.
Doors to the Gym will be open at 10:00 a.m.
The ceremony, which draws approximately 1,300 people, will include music provided by the UBC School of Music, short readings and remarks.
Members of the platform party include:
David Eby, MLA, Vancouver-Point Grey
Martha Piper, OC, OBC Interim President and Vice-Chancellor, UBC
Louise Cowin, VP, Students, UBC
Professor Nancy Hermiston, University Marshal and Director, Opera Ensemble, UBC School of Music
Aaron Bailey, Alma Mater Society-UBC Vancouver.
Please note: There is limited parking in the vicinity of the War Memorial Gym due to construction activities and as such we advise participants and guests to use the North Parkade.
Cost: $ 1.75 per half an hour or $8.00 for the day (coins or credit cards).
Limited free parking is available up to 1:00 pm on November 11 in the in the GSAB lot (15 – 20 spots) beside the Gym and the parallel metered parking spots on University Boulevard from Wesbrook Mall to East Mall.
Special needs parking: There are two special needs parking spots located on the NE corner of the Gym and two additional spots located in the parallel metered parking area on University Boulevard.  Special needs drop off: please enter from Chancellor Boulevard.
Map showing War Memorial Gym: https://goo.gl/maps/Yp5CE9VE2gH2
For more information: Call UBC Ceremonies Office at 604-822-2484.