September 30, 2015
11:00am to 2:00pm
Money and Raymond M.C. Lee Square (outside UBC Bookstore)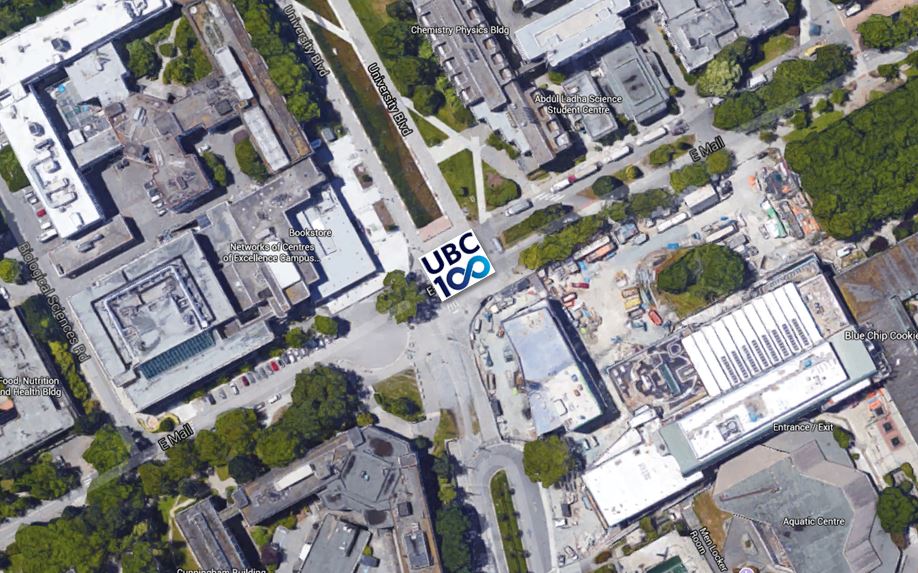 UBC's Centennial year will officially launch on Wednesday, September 30, 2015, the 100th anniversary of the first day of classes. To mark this historic milestone, we are inviting the university community to join us at UBC100 at Lee Square from 11:00am to 2:00pm on September 30 at Money and Raymond M.C. Lee Square (outside UBC Bookstore). Come out and enjoy some great performances and grab your lunch from one of the food trucks around the square.
Between 12:00pm and 1:00pm, we will recreate the iconic 'UBC' photo taken at the end of the Great Trek in 1922 in the shape of the UBC100 logo. Rain or shine, we hope you can take part in this historic photograph!
Take Your Place in the 'UBC100' Photo
To volunteer to be a part of the photo, we ask that you:
Are available for communication via e-mail 2 weeks out to the event day, should additional information need to be communicated
Are available on September 30th from 11:30 am – 1:00 pm
Have a cell phone (zero to minimal use expected)
Optional: Wear a navy blue shirt.  Please dress appropriately for the weather.
Since the event will take place outside, we suggest that you wear or bring the following:
Sunscreen
Sunglasses
Comfortable shoes
Water bottle
Waiver: By registering to be a volunteer for the photo I hereby give The University of British Columbia ("UBC") permission to use images of me (including any motion picture or still photographs made by UBC of my likeness, poses, acts and appearances or the sound records made by UBC of my voice) ("Images") for any purposes in connection with promoting UBC and its activities (the "Purposes"), which may include advertising, promotion and marketing. UBC may crop, alter or modify Images of me and combine such Images with other images, text, audio recordings and graphics without notifying me. I understand that my personal information, including Images of me, is being collected pursuant to section 26 of the Freedom of Information and Protection of Privacy Act, R.S.B.C. 1996, c. 165, for the Purposes. I consent to my name and any other information provided by me to UBC being displayed in connection with the appearance of my Image. I consent to any of my personal Information, including Images of me, being stored, accessed or disclosed outside of Canada.
REGISTER TO BE A PART OF UBC100 PHOTO